Welcome to the online home of Best American Experimental Writing, a bi-ennial anthology of dynamic texts published by Wesleyan University Press. Now entering its fifth edition, the Best American Experimental Writing anthology series collects the best experimental writing in poetry, fiction, and creative nonfiction in a exciting and necessary anthology. BAX has previously showcased work by established writers, including Rae Armantrout, Mark Z. Danielewski, Layli Long Soldier, Fred Moten, Ron Padgett, Carolee Schneemann, and Catherine Wagner, in addition to consistently featuring work by emerging voices.
BAX is committed to fostering a dynamic notion of what it means to be experimental: neither this anthology nor its Editors or Publishers subscribe to a single definition for the term "experimental writing," because no definition suffices. Experimentation in the literary arts is by definition a moving target, and a central part of our commitment to expanding the dialogue around experimental writing is our digital edition. Use the covers below to view the digital editions for all five volumes of BAX.
Current Issue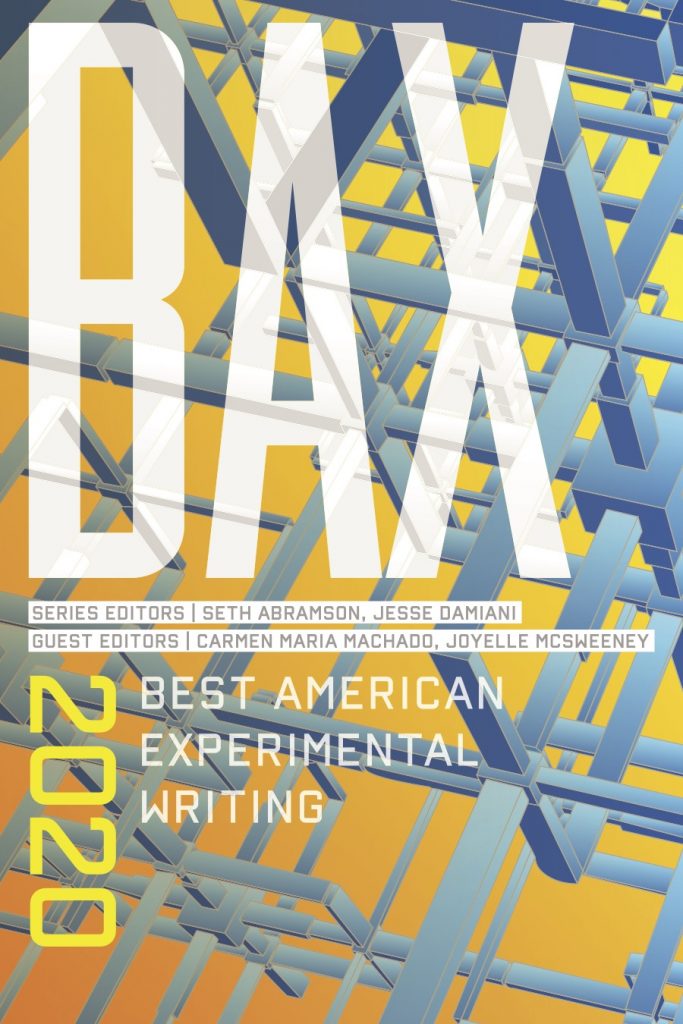 Previous Editions
Masthead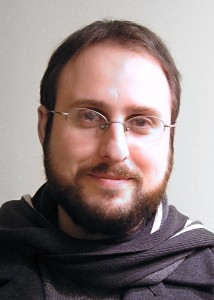 Seth Abramson (Series Co-Editor) is an assistant professor of English at University of New Hampshire and the author of six books, including The Metamodern Trilogy of Golden Age (2017), DATA (2016), and Metamericana (2015), all published by BlazeVOX, and Thievery, winner of the 2012 Akron Poetry Prize from University of Akron Press.
Jesse Damiani (Series Co-Editor) is the author of @endless$pectator: The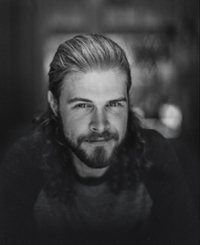 Screens Suite #sweetpicsbro #pixelated #loliloquy (BlazeVOX, forthcoming) and Co-Founder of Galatea, a writing and previsualization tool for VR and AR storybuilding. He was the 2013-2014 Halls Emerging Artist Fellow at the Wisconsin Institute for Creative Writing, and now lives in Los Angeles, where he works as a copywriter and journalist.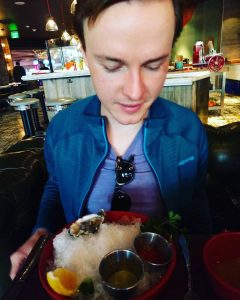 Michael Martin Shea (Managing Editor) is the author of three chapbooks of poetry and hybrid writing: "Soon" (Garden-Door Press), The Immanent Field (Essay Press), and Comparative Morphologies (above/ground press), as well as the translator of Liliana Ponce's Diario/Diary (Ugly Duckling Presse). His poetry has appeared in Colorado Review, Conjunctions, Fence, jubilat, PEN Poetry Series, and elsewhere. He lives in Philadelphia, PA, where he is a doctoral student in Comparative Literature and Literary Theory at the University of Pennsylvania.