from INTERRO-PORN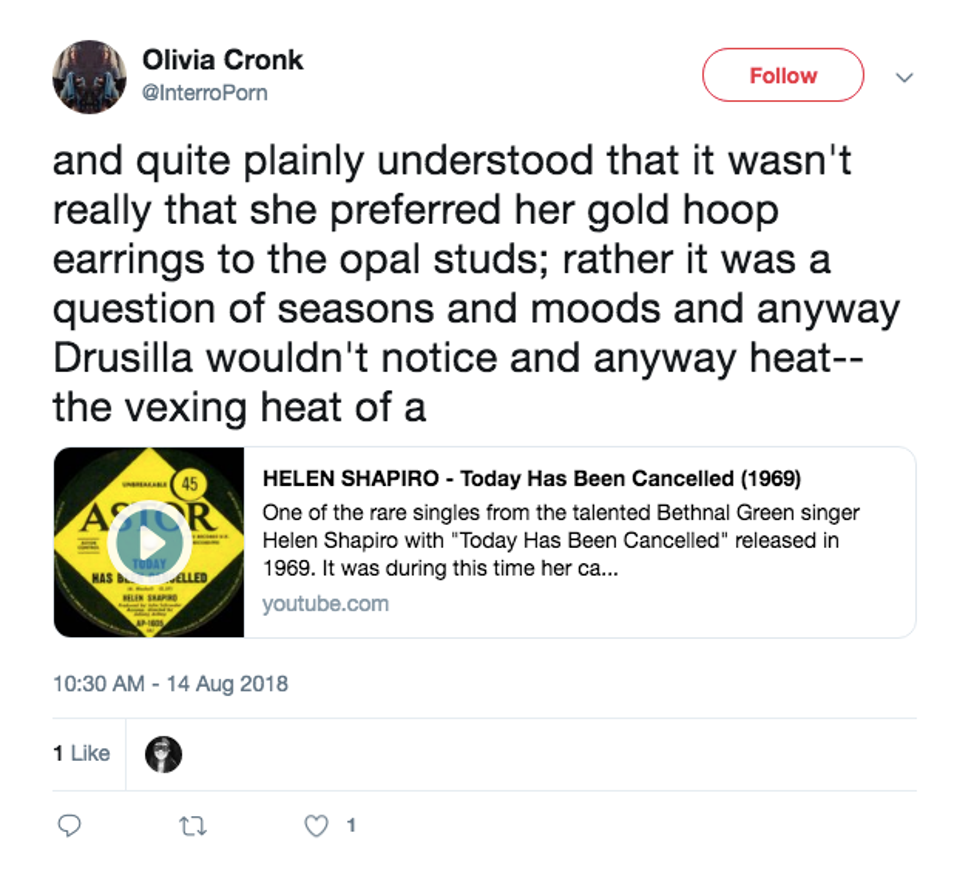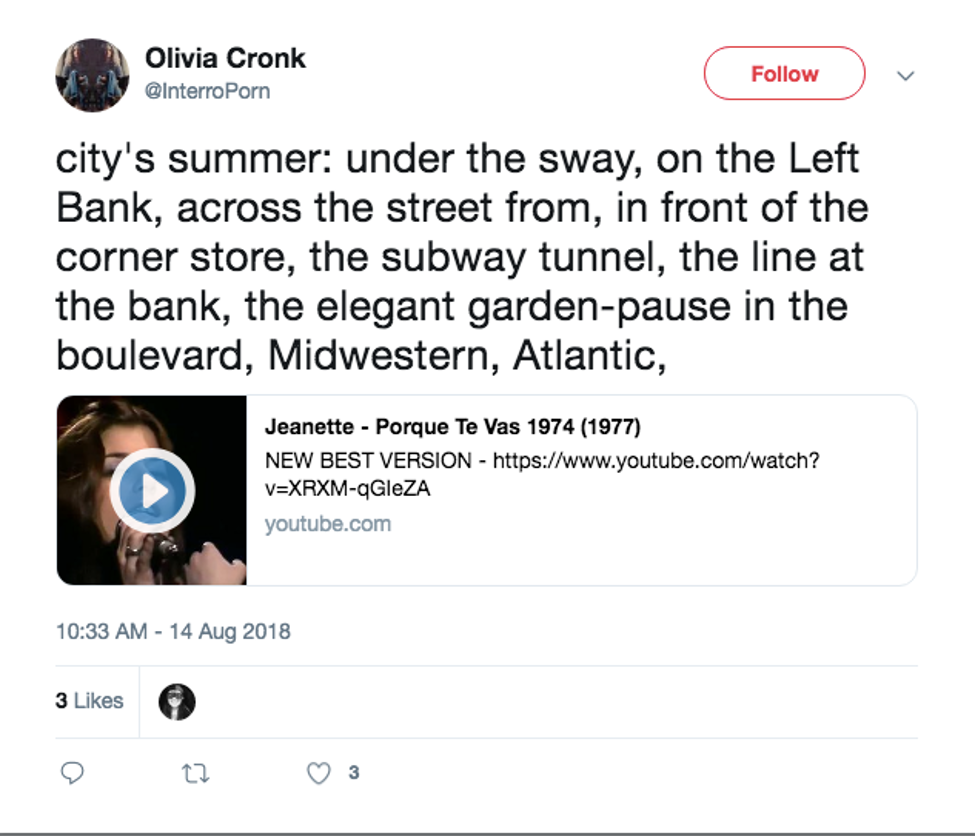 She could see the graphs laid right over the room then
in air in concepts in quiet smoke trees in slow-mo out the window smoke
shake no no must get the lawyer in here.
WHEN YOU STEPPED ONTO YOUR BUS, WERE YOU PARANOID?
Ma, if you read the tabloids about my being in the crime's pocket, my eyeliner smeared to graveyard-sex and my trunk fulla bad bad things, would you call me up & feign surprise? Ma, how does this hat look? Miss Otis Regrets?
Goddammit I want a slowly narrated scene of an empress and then some kind of betrayal and then Instagram eyebrows peeking out from under shiny bangs and a piece of poisoned glass and an honest-to-god magical demon.
I used to think only big earrings and then only dark eye makeup and then filth and then country-music-cuteness or good curation of the livingroom trinkets. I don't give a shit about cleanliness, but tidiness for the purpose of unseen display now that is something I appreciate.
I'll sweep the room.
No, it's better if it's a room with carpeting to vacuum: blue, pastel: crystaleeny figurinees on a brassy edge. THIS IS NOT MY HOUSE. This is how I would set a room to make a porno. I vacuum all morning, crank up the AC, put out a few cherry candies and some vodka-lemonade jobbies, and invite the cast to relax.
The empress barricades the house in which the dead emperor remains. Everyone is putting on too much lipstick. A torn paper silhouette taped to the wall comes loose in the excess of luscious humidity. You shall say the dentist is here double canines and two heads emerging from a cornucopia. Tend to this. With your mouth.
https://www.youtube.com/watch?v=IUQmBGDC9Ts
You gotta ask yourself about breathing into theater,
simply sighing the room into pretend
Then you ask about the script there is so much ambiguity how do the incantations
work with this necktie this rubber lead this boa this saying over
while saying it              how can I make the VOICE SPLIT THAT WAY?
HOW DOES A VOICE WORK WHEN IT'S MADE OF SO MUCH RIPPED OFF SHIT? WHEN I AM READING AM I?
DOES THE VOICE SPLIT THAT WAY?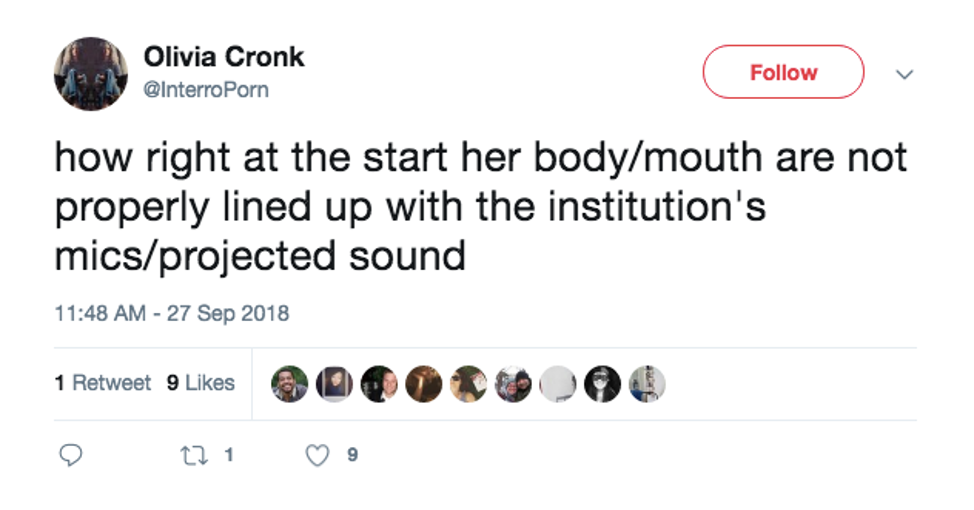 Tell the performers to drink right from the room.
A reminder people look alive it's an interrogation room it's a funeral it's
shit-shiny chrome and powdered hounds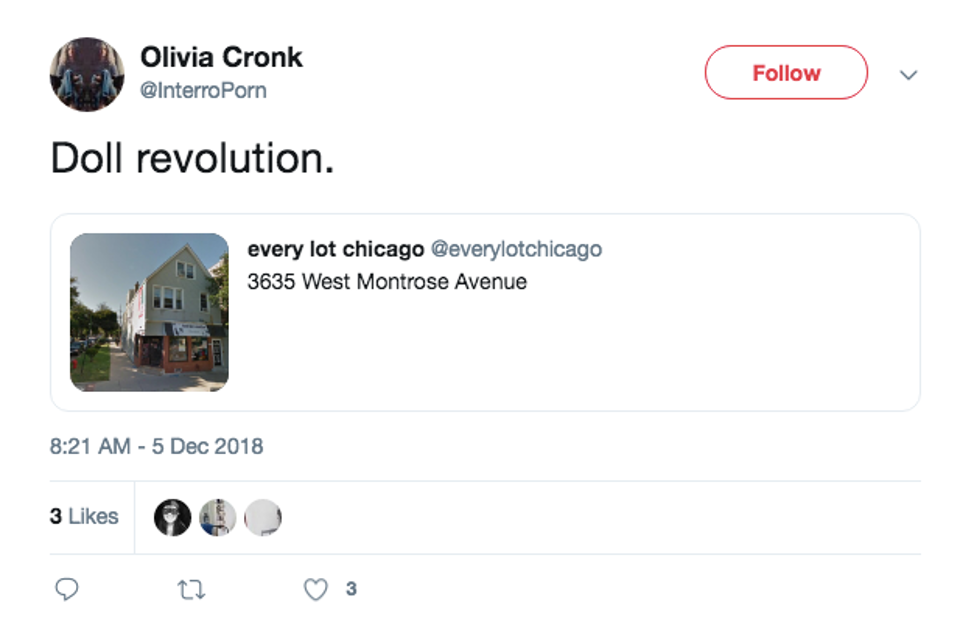 To kill what I kill is fine.
HAVE YOU EVER BEFORE SEEN THIS GOLD PEACOCK BROOCH?
"Have you ever seen this gold peacock brooch?" Have I?
Have I ever been caught with the likes of you
sniffing out my dog and my red bracelet? Am I wearing a pilled sweater?
There's nothing in here for me that is ghastly enough for me.
DID YOU WEAR THIS BROOCH
WEAR IT, AS YOU, UNDER THE BRIDGE?
WERE YOU WAITING AND SEEPING AND SEETHING AND EVERYTHING?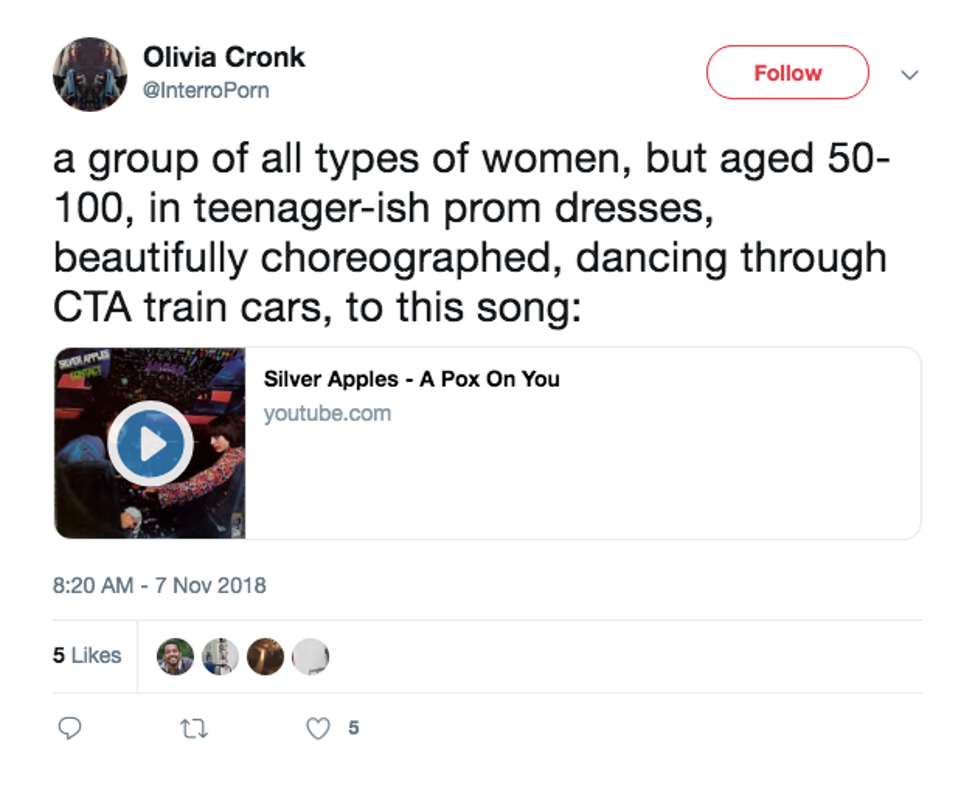 Back then, my ma bleached her armpit hair, wore a black three-piece suit, wore eyelet lace, a rainbow turtleneck, a scowl, wintertime capes; now, black petal pushers and bright t-shirts, sensible sandals, large jewelry, sometimes loud red lips.
And when my daughter my mother necks her little face out the front windows of our apartment and hollers at the whole block, I see it is Barbara fucking Eden herself who yanks her back in
to watch the teevee
They both know I'm busy with the film: a garden scene, a hand turning into a chain, Giselle and Drusilla at it again, red lace on the boots getting simply drowned in fake snow/semen/powdered hounds, what have you.
I am intimate as earrings with these assholes and that's not changing any time soon.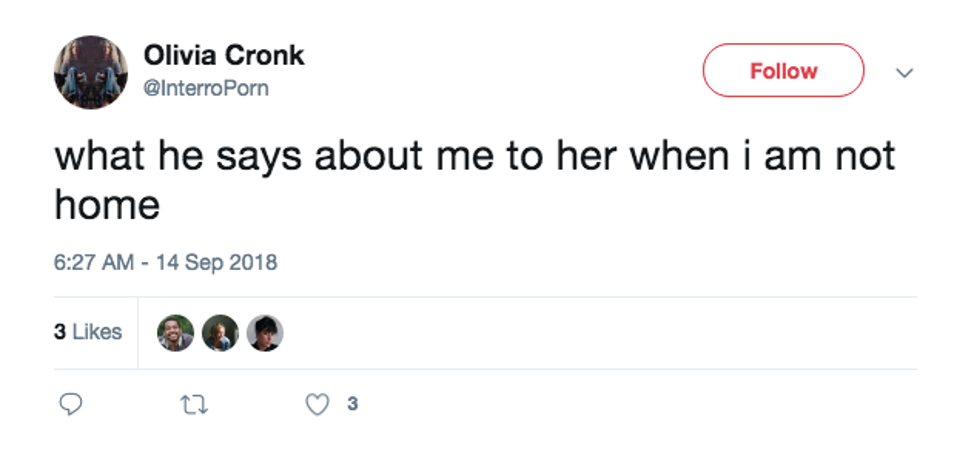 Giselle WILL get her ass beat down.
She came to town. She came
all over the neighborhood. Giselle
gnawed an apple and wore a spiky collar & listen up
don't come near my man don't whistle his tune he's got no ears for it now
WHAT DID YOUR MOTHER WEAR ON MONDAY?
Olivia Cronk is the author of WOMONSTER (Tarpaulin Sky, 2020), in which these pieces appear; Louise and Louise and Louise (The Lettered Streets, 2016); and Skin Horse (Action Books, 2012). Recent critical work has appeared in The Collagist and Critical Flame. With Philip Sorenson, she edits The Journal Petra.